When it comes to product packaging, the terms box and carton come up frequently and are often used interchangeably. However, there are quite a few differences between the two and major benefits to using both in your product packaging. Fortunately, we know quite a bit about boxes and custom printed cartons. In this post, we'll share our knowledge by defining what boxes and cartons are and listing the benefits of using each.
What is a Box?
In product packaging terms, a box uses thick material like corrugated cardboard and is used either to ship items or hold several individual items. Boxes are typically folded and sealed with packing tape, though some boxes can also seal with a front tuck.
Benefits of Using Boxes
1. Boxes Protect Your Product
The main benefit of using a box is to protect your product once it ships. Corrugated cardboard is extremely strong and capable of supporting heavy items, therefore it is the most common choice for companies that distribute their products nationally. Heavy, valuable, and fragile items all benefit from being shipped in corrugated cardboard boxes.
2. Boxes Can Showcase Your Branding
Though many brands opt for plain, unbranded boxes, many other companies order custom printed boxes that include their logo and branding. If you've ever ordered a meal plan kit from HelloFresh, you should be familiar with their bright green and white logo printed on the outside of a corrugated cardboard box. Considering packages pass through many different hands before reaching their final destination, your logo is likely to be seen by a wide variety of people. That's a lot of brand exposure!
Read more: 5 Tips for Amazing E-Commerce Packaging
3. Boxes Are Reusable
Corrugated cardboard boxes actually have a wide variety of uses besides shipping products. Many people use cardboard boxes to pack their belongings when moving, to wrap presents in, to ship their own products in, and even for gardening! While plastic shipping materials like mailers have their place, cardboard boxes are an excellent choice simply for their versatility.
What is a Carton?
A carton is typically made from a thinner material than boxes, like paperboard. Cartons are used as outer packaging for several types of products, such as cosmetics and supplements. 
Read more: 7 Types of Folding Cartons
Benefits of Using Custom Printed Cartons
1. Custom Printed Cartons Protect Your Product
When products are distributed to retail stores, the outer packaging helps prevent damage to the product itself. Items that are sensitive to UV rays, like essential oils, CBD oils, and even coffee, benefit from the extra layer of protection a carton can offer. Once the product is displayed, the outer packaging keeps working to protect the product from possible UV rays if placed close to windows, frequent touching from shoppers picking up the product to examine it, and more. Cartons also help perishable products stay fresher longer.
2. Custom Printed Cartons Display Additional Product Information
For products with heavy regulations, a carton can be used to display a great deal of required information you may not have room for on the product itself. Small items like tincture bottles and makeup tubes often need that additional real estate to display ingredient lists, manufacturing information, directions for us, and more. If you're struggling to fit all the necessary information directly on your product label, you may want to add a carton to your packaging.
3. Custom Printed Cartons Add Interest to Product Packaging
Custom printed cartons can add a wow factor to your product packaging. Protecting your product and displaying required information are both very important, but high-quality packaging design is another matter entirely. A beautifully designed carton can make the difference between a potential customer completely ignoring your product and grabbing your product from the shelf immediately.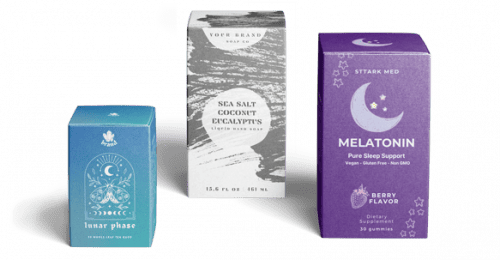 Types of Custom Printed Cartons
Custom printed cartons come in many different varieties. We have a wide range of carton types to choose from. Check out our options below!
Gloss Laminate Cartons
Gloss laminate cartons are very shiny and durable. Gloss laminate cartons are eye-catching and have great shelf appeal. Cosmetics products and supplement products look great in gloss laminate cartons. A gloss laminate carton pairs very well with a gloss laminate label. 
Satin Laminate Cartons
Satin laminate cartons have a sophisticated, non-glare look and are an excellent choice for artisan products. You can write on or stamp satin laminate cartons with additional product information, like batch codes, as long as you use permanent ink. CBD products look great in satin laminate cartons. Satin laminate cartons pair well with satin laminate labels.
Matte Laminate Cartons
Matte laminate cartons are luxurious and soft to the touch. Though they feel like velvet, matte laminate cartons are very durable and scuff-proof. Luxury soap and skincare products are perfect candidates for matte laminate cartons, especially when paired with a matte laminate label.
Linen Laminate Cartons
Linen laminate cartons are beautifully textured. Linen laminate gives your product packaging a bespoke look while still protecting your product inside. Linen laminate cartons are perfect for artisan products like coffee or tea.
Leather Laminate Cartons
Leather laminate cartons are incredibly unique. Adding an interesting look and texture to any product packaging, leather laminate also protects the product within. Leather laminate cartons are a perfect choice for men's products, and look even better when paired with a leather laminate label.
Rainbow Holographic Laminate Cartons
Rainbow holographic laminate cartons are a stunning choice for your product's packaging. Reflecting a myriad of colors, rainbow holographic laminate enhances virtually any product packaging design. Rainbow holographic laminate works for any purpose, including custom candle packaging. Best of all, rainbow holographic labels look amazing when paired with these cartons.
Conclusion
Boxes and cartons are both incredibly important in the product packaging world. Both help keep your products safe and showcase your branding. We pride ourselves on making the best custom printed cartons for many different industries and would love to help your company make incredible packaging for your products. Give us a call today to see how we can help!
You might also like: